Why choose our Erbulus Evil Eyes?
High Quality:

 All products are sent from Turkey in the center of glass art. It is made of 100% Turkish glass. All of them are prepared with handmade special craftsmanship.
Product Variety:

 We offer you symbols that are known sacred along with the evil eye bead. Like hamsa, elephant, horseshoe product have different meanings. you can diversify your talismans with such symbols.
Usage Areas:

 Perfect ornament to your home, kids room, bedroom, living room, even use it as a wedding, birthday celebration decoration and DIY wall art. Attract and surprise your guests!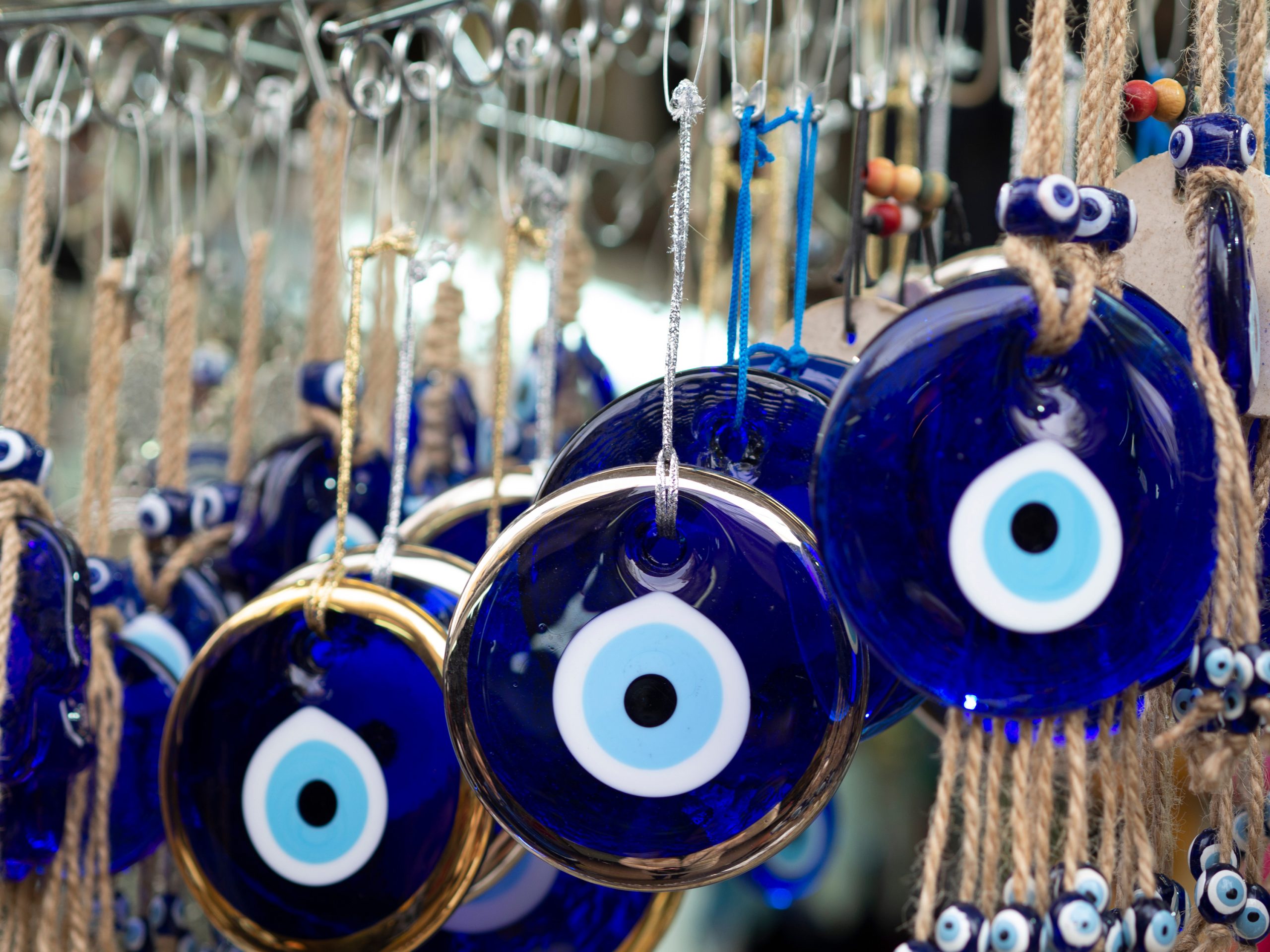 Protect Yourself from Bad Energies
Find peace by making sure that your home is protected from bad energy. The figure of the evil eye are recognized in many cultures, and they are believed to have protection over you, your home, and your loved ones. Protective evil eye beads with different colours, size and designs can be used according to your taste and they spiritually will help you feel good. You can use it as a decorative accessory in any corner of your home and spread good energies throughout your home. You can use this symbol in your home as a talisman, amulet or protector and as a wall hanger decoration, wall decoration, and decorative accessory. The evil eye beads produced from glass accumulate bad energy inside itself and are believed to break after a certain period of time. So all the bad energy vanishes. So your family, loved ones and home will be protected.
Authentic Evil Eye Production
Turkish evil eye beads(Nazar Boncugu) are made in furnaces called quarry. Waste glass and coloring materials are placed in special compartments located inside the quarry and it is turned on. As the temperature of the quarry reaches a temperature of about 1000 ° C, waste glass and coloring matter melts and masters begin to produce. All parts of the product are handcrafted. As the products are all handmade, there is a difference in color shades.
The Power of Energy
It has been experimentally proven that harmful electromagnetic waves, called psychokinesis and emitted from the gaze, have an effect on humans and animals. It has been clearly observed that some animals weaken their prey by hypnosis with their eyes, then attack. The same applies to people. Science has now approved this. So, protective amulets are one of the main options for protecting yourself and your loved ones.
High Quality Packaging
Protection of glass products, in general, requires ultimate care. So the packaging of our products consists of a double layer. In the first one, the product is covered with bubble wrap. Bubble wrap is a great protection for our evil eye products. In the second, different products are placed in specially prepared boxes.
Decor Your Office
You can treat your loved ones with Evil Eye Bead and protect your from such negative people. Share joy and good wishes with your loved ones on your most special day.
Home Decoration and Great Gifts
Perfect for decorating the wall or gift for yourself, your family, friends.
Souvenir of Turkey and Greece
Many people in Turkey, as well as in Greece, put these charms by the doors. Peace and smile should never be missing in your home.